If you're in the business of selling cosmetics, then you know that storage is a big issue. After all, you need to be able to keep your products safe and sound while still being able to access them easily when it's time to restock your shelves. That's why finding the right bulk containers for cosmetics is so important. In this blog post, we'll give you a few tips on how to choose the right containers for your needs.
How to Choose the Right Cosmetic Containers
The first thing you need to consider is what type of products you will be storing. Some cosmetics are more delicate than others, and as such, they'll require a variety of types of packaging. For example, if you're planning on storing powder-based products, then you'll need containers that are airtight and moisture-resistant. On the other hand, if you're going to be storing creams and liquids, then you'll need leak-proof containers. You will also want to ensure that you label specifically so that the different sizes and contents can be differentiated from others.

Another thing to consider is the container size of cosmetic jars. Obviously, you'll want to choose cosmetic containers that are large enough to accommodate all of your products, but you don't want them to be too large, either. After all, empty space can lead to wasted resources (both in terms of storage space and money). It's a good idea to find containers that are stackable so that you can make the most of your storage space.

Finally, you'll want to ensure that the containers you choose are made from high-quality materials. After all, you don't want your products leaking out or getting damaged due to inferior packaging. Look for containers that are made from durable materials like plastic, glass, or stainless steel. And if possible, try to find packaging that has been specifically designed for storing cosmetics. This will give you peace of mind knowing that your products are being stored safely and securely.
Storage Options Large and Small
There can be many options for the storage of cosmetic products on the market. Depending on where your business is in the production process, you may need to look for something as small as cosmetic jars or other sorts of jars all the way up to totes or tanks that can hold bulk ingredients that will be mixed together to create your end products.
Most products contain a unique mixture of powders and liquids that, when combined, lead to your end cosmetic product. Different packaging options can come in all shapes and sizes, so ensuring that you keep a proper stock of what you need can help your business continue to run smoothly.
Ensuring Smooth Product Storage
If you're in the business of selling cosmetics, then finding the right bulk containers for your products is essential. In this blog post, we've given you a few things to consider when choosing containers for your business needs. We hope this information has been helpful and that you'll be able to find the perfect solution for storing your cosmetics in bulk!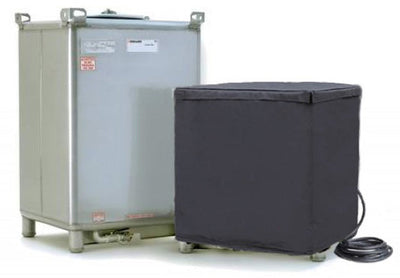 $2,415.00
550 Gal. Stainless Food Grade IBC Tote Heater & Top-Cover. 1800 Watt - Model HA550, 165°F MAX TEMP
Introducing the ProMAX 550 Gallon IBC Stainless Tote/Tank Heating system. Model HA550, both 120 or 220 Volt available.  This model comes with 1800 Watts of heating power and includes an insulated top cover.